Current Exhibitions & News

You can check out several of my newer pieces in the flat files at Pierogi Gallery in Brooklyn. I'm delighted to be included, and you can see a few pieces online at Pierogi as well. My work was recently on exhibit in Gallery Joe's Bye Bye Old City show in Philadelphia.

You can see more of my work and occasional posts about my and other people's art on my blog, and I'm also occasionally on facebook and instagram when I am not in the studio.

Older Exhibition News

Two of my tiny drawings were included in Gallery Joe's show Joy, a lovely exhibition that also includes work by Mia Rosenthal, Alex Paik, Astrid Koppe, Sharka Hyland and Marilyn Holsing.
Episode, below, was included in Drawing Now at Artspace Liberti this fall. The show was curated by Sabina Tichindeleanu with Emilie Keim Viss, and included lots of great work, some of which you can see on Sabina's blog here. There were some nice reviews of the show: one of them is here.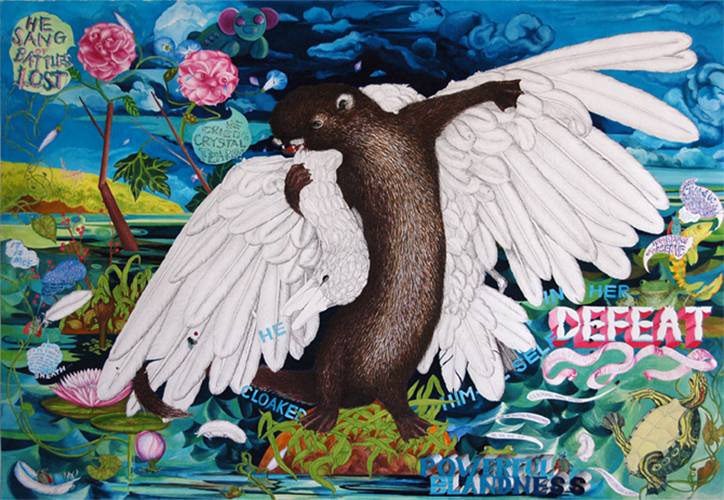 An exhibition of my new work, More Than I Had To Say, was at Firecat Projects in Chicago last August. The show included many of the newer pieces that are on the artwork page of the website. The piece below is Episode, and it's one of a series of four pieces that anchor the show.
I made a new etching, Doubt, with Slugfest Printmaking Workshop that can be purchased there or through Galley Joe in Philadelphia. I'm working on a new series of combination painting/drawings using archival watercolors and magic markers as well as ball point pens. You can see the new work here.

How and How Not to Draw A Morning Glory was included in Narcissus in the Studio: Artist Portraits and Self Portraits at the Pennsylvania Academy of Fine Art.
Center Street Studio helped me make Promise, an etching, that is now in the collection of the Cornell University Museum and the Davis Museum at Wellesley College.Center Street Studio and Gallery Joe both have prints available for purchase. Gallery Joe also has drawings.You can contact the gallery if you're interested in seeing some work in person or purchasing artwork. Please feel free to email me with questions or comments.
I'm currently working on a book project and making more drawings: check the drawings and prints page and my blog for recent work.
There is an interview with me by Jennifer Zarro in an old issue of Art Matters magazine.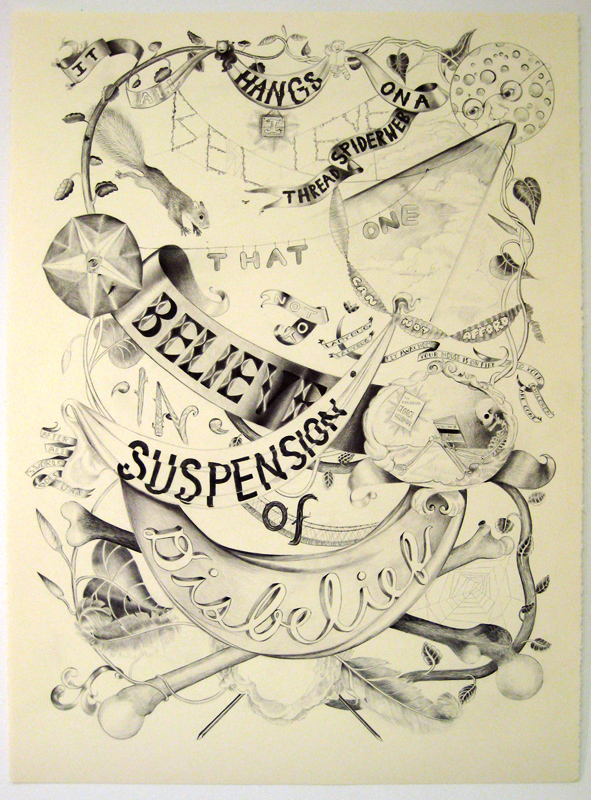 Samantha Simpson,Disbelief, Ballpoint on paper, 2006
My show at Gallery Joe with Rachel Perry Welty was reviewed in the Philadelphia Inquirer, the Philadelphia Weekly and on artblog. (Click the links to read the reviews.)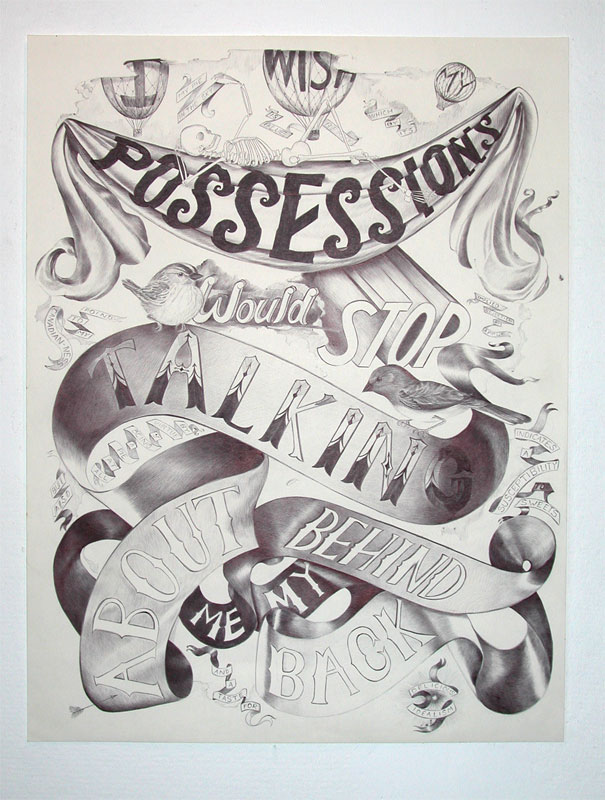 Spring (above) and Posessions were included in Ink! the summer group show at Gallery Joe in Philadelphia. You can read reviews of the show written by Edith Newhall at the Philadelphia Inquirer, Lori Hill of the Philadelphia City Paper , and Roberta Fallon in the Philadelphia Weekly and on artblog.
Exotic Narrative, a 48' long piece on paper, was on exhibit through the Philadelphia Airport's Exhibition Initiative.
Drawings on paper were included in "I Woke Up in a Strange Place" at Moti Hasson Gallery in NYC. The exhibition ran from December 8th, 2005 to January 21, 2006. My drawings were mentioned in a short exhibition review in the New York Times.
The Problem of Prevost's Squirrel, a show of my large work on paper, was up from December 2- 30 at Vox Populi Gallery in Philadelphia. Roberta Fallon wrote about the show in the Editor's Picks section of a recent Philadelphia Weekly, and Edith Newhall wrote an article about the show for the Philadelphia Inquirer.
See my exhibition history for more complete information.
Click any images on this page for details. Click the menu at the top of the page for more information.